The manufacturing industry has entered a new era thanks to the revolutionary breakthrough of laser cutting technology. This innovative advancement is transforming traditional production processes, allowing for higher precision and greater efficiency in the creation of goods.
Laser-cutting technology enables manufacturers to cut materials with unparalleled accuracy, creating intricate shapes and patterns that are not achievable through other methods. Through its ability to precisely manipulate material surfaces at high speeds, this process offers an array of benefits over more traditional techniques such as stamping or drilling.
As manufacturers continue to explore what this groundbreaking technology can do, it's clear that laser cutting is transforming the way products are made around the world.
Benefits of Laser Cutting Technology
Laser-cutting technology is revolutionizing manufacturing by bringing many benefits to the table. By using this technology, manufacturers can save time and money while improving accuracy and precision in their work.
Laser cutters can produce high-quality cuts at lightning speed, making them invaluable for production lines that require fast turnaround times without sacrificing quality. Furthermore, laser cutters are incredibly precise because they operate with a level of accuracy down to less than a millimeter – meaning that intricate shapes and designs can be created accurately with no margin for error.
On top of all these advantages, lasers also offer flexibility when it comes to material types; almost any type of material can be cut with laser beams – from wood and metal to glass and rubber – providing an unparalleled range of possibilities for the manufacturer. In conclusion, laser cutting technology is revolutionizing manufacturing by offering tremendous speed, accuracy, precision, and flexibility that would otherwise not be possible with traditional methods.
The Impact of Laser Cutting on Manufacturing Processes
Laser-cutting technology has had a tremendous impact on the manufacturing industry. Not only is it more accurate and precise than traditional methods, but it also reduces cost and waste by allowing for automated production with fewer resources.
This has resulted in faster turnaround times, greater flexibility in design, and increased efficiency overall. In addition to improving precision, laser cutting can cut through materials that would be too thick or hard for traditional tools like saws or routers.
This allows manufacturers to create intricate designs with thinner material than ever before. With this superior accuracy comes improved safety as well; laser beams are safer than manual tools because they have no sharp edges or heated areas that could cause injury during the operation or handling of the finished product.
The use of lasers also helps reduce energy costs associated with running machines for longer periods since high-powered laser beams require less energy to operate compared to other technologies such as water jets and plasma cutters. Finally, when used correctly, laser cutting produces higher quality products due to its ability to shape objects quickly and accurately without leaving behind any burrs or other imperfections caused by manual labor methods.
Cost Savings with Laser Cutting Technology
Laser-cutting technology has revolutionized the manufacturing industry, offering businesses cost savings and improved efficiency. By using laser cutting instead of traditional machining methods, manufacturers can speed up production times while also reducing waste materials.
Laser-cut parts require less post-processing time than their mechanically cut counterparts and can be customized to specific dimensions required for a project. The accuracy of laser cutting further reduces the amount of material needed for each job — yielding significant cost savings in terms of raw resources as well as labor costs associated with finishing operations.
Additionally, since no additional tooling is necessary when switching from one project to another, there is a faster turnaround time between product runs which means more productivity and increased profits. With its numerous advantages over traditional machining techniques, laser cutting technology offers businesses tremendous potential for cost savings while providing superior quality output.
Future Trends in the Use of Laser Cutting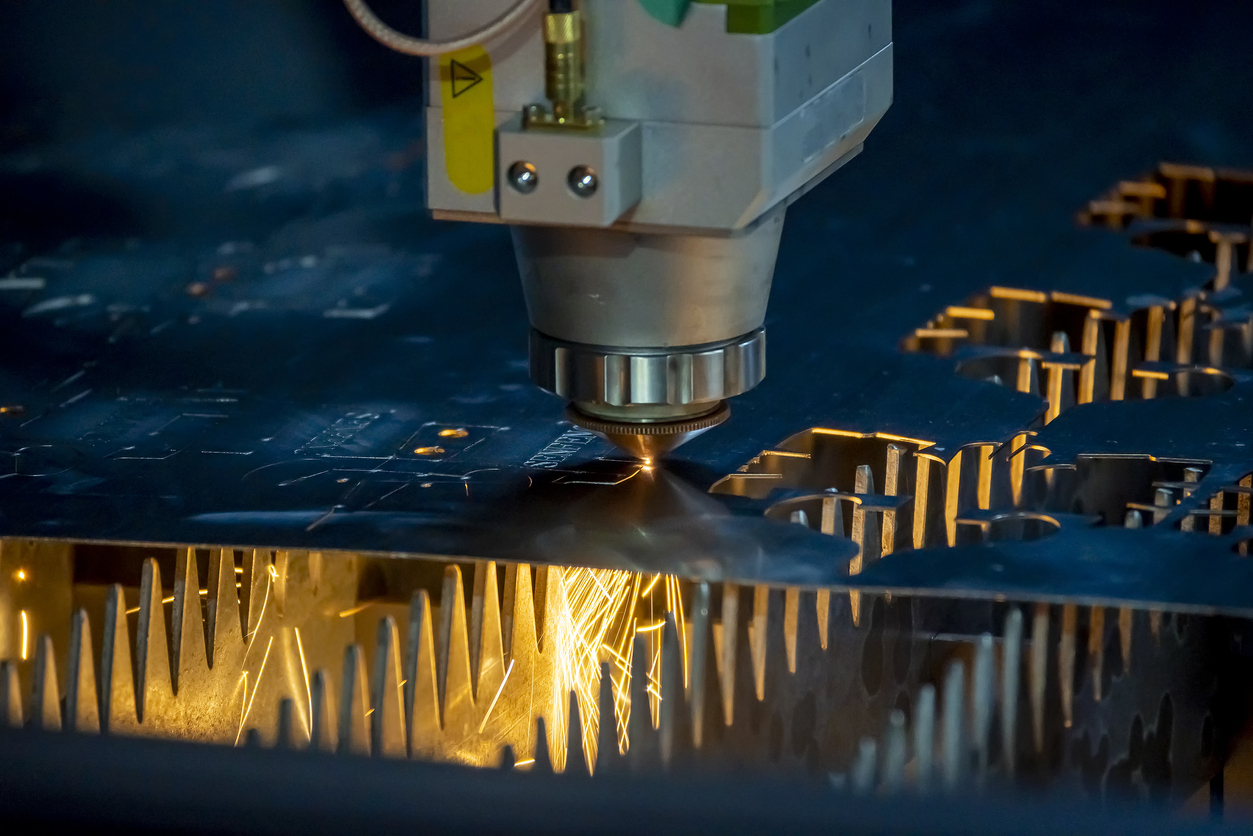 The use of laser cutting technology has revolutionized manufacturing and continues to do so. The future of this technology promises even greater advances, with several trends emerging that could shape the production landscape for years to come.
Automation is at the forefront, allowing manufacturers to increase their output without sacrificing quality. This automation also comes in the form of robotics that are programmed specifically for laser cutting operations.
As materials become more advanced and more specialized, lasers will be used increasingly as well, giving them greater precision when working with delicate or complex components. Improved safety protocols will ensure operators can work confidently while reducing any risks associated with using this powerful tool.
Finally, 3D printing capabilities are expected to integrate better with traditional laser cutting processes, making it easier than ever before for manufacturers to produce custom parts quickly and accurately across multiple platforms simultaneously.
Conclusion
Laser-cutting technology is revolutionizing manufacturing, offering businesses of all types and sizes the opportunity to streamline their production process cost-effectively. With laser-cutting technology, companies can save time, money, and resources while producing precision parts with complex shapes and ultra-smooth finishes.
Laser cutting has enabled manufacturers to reduce material waste significantly while increasing productivity and quality control standards. Additionally, laser cutters are incredibly versatile machines that can be used for various applications ranging from automotive components to medical products.
All in all, laser cutting gives companies the ability to gain more value out of their raw materials while also investing in a reliable tool that will serve them well into the future.