As the commercial construction industry continues to grow, businesses must find ways to supercharge their workflow with digital solutions. By leveraging technology such as cloud computing and automation, companies can optimize their operations for greater efficiency and productivity.
With these advancements, construction teams can achieve more in less time while staying competitive in todays ever-changing marketplace. This article will explore how modern digital technologies can help you get the most out of your construction workflow.
We'll look at how they enable faster execution of projects, improved collaboration between teams and stakeholders, reduced costs associated with manual labor, and increased safety on the job site. So if you're looking for a way to stay ahead of the competition while improving your bottom line – read on!
Leveraging the Benefits of Commercial Construction Technology
Technology can be a powerful tool for commercial construction companies, enabling them to gain efficiencies in workflow and cost savings. By leveraging the benefits of a commercial construction technology glossary, businesses can take their projects from concept to completion faster and more accurately than ever before. Digital platforms allow companies to streamline multiple workflows including planning, design, estimating, bidding, and procurement into one seamless process.
With cloud-based software tools such as Building Information Modeling (BIM), contractors can visualize their projects in 3D models with detailed information regarding materials needed and labor costs associated with each task. This helps ensure accuracy when it comes time for bids on large jobs allowing for better budgeting and cost control throughout the project lifecycle.
Additionally, mobile applications provide instant access to documents like plans or specs which is invaluable in the field making sure everyone is working off the same version of reality at all times. And because these applications are accessible anytime from anywhere they can help speed up communication between teams while still maintaining the security standards required by most organizations today.
Finally with technology integrated into daily processes there's an opportunity for continuous improvement through dashboards that track progress against goals giving business owners insight into where adjustments may need to be made along the way ensuring maximum efficiency throughout a project's duration
Streamlining Construction Workflows for Optimal Results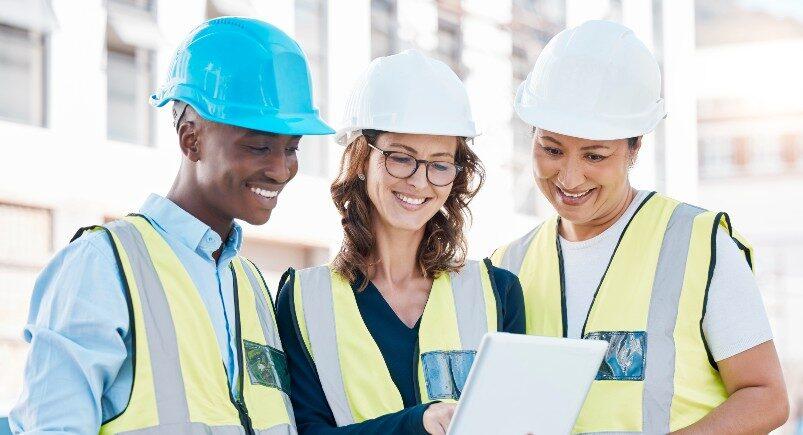 The streamlining of construction workflows is essential for achieving optimal results in commercial construction projects. Utilizing digital solutions to help manage, coordinate, and optimize workflow processes can help contractors save time and money while ensuring that the highest standards of quality are maintained.
Digital tools such as project management software and cloud-based collaboration platforms can be used to track progress, assign tasks, and monitor deadlines, and budget – all in one convenient location. By consolidating data into one integrated platform it's possible to reduce paperwork, streamline communication between stakeholders, create more transparency with vendors and subcontractors, and improve overall efficiency.
Furthermore, utilizing technology like automated scheduling systems makes it easier to plan out job sites more effectively by identifying potential delays or miscommunications before they occur.
With a comprehensive view of the entire project from start to finish it's easier than ever for contractors to ensure successful completion within the allotted timeframe – making digital solutions an invaluable asset when it comes to supercharging your construction workflow today.
Reducing Manual Labor Through Automation
In commercial construction, automation is playing an increasingly important role in reducing manual labor and streamlining workflows. Automated solutions are making it easier to perform mundane tasks faster and more efficiently than ever before.
Companies can now use digital technologies like drones, 3D printing, and robotic assistants to quickly complete projects with fewer mistakes or delays. These automated solutions also enable workers to focus on higher-value activities while the technology handles the rest.
Ultimately, automating certain processes leads to increased safety, improved productivity, enhanced accuracy of results, and cost savings for companies involved in commercial construction projects.
Optimizing Cost Savings and Productivity Gains
Digital solutions can help optimize cost savings and productivity gains in commercial construction. By leveraging the latest technologies, such as cloud computing, 3D printing, robotics, and artificial intelligence (AI), contractors can reduce costs while increasing efficiency on the job site.
Cloud computing services enable real-time collaboration between all stakeholders involved with a project. This ensures that everyone is informed of any changes to the budget or timeline so they can be addressed quickly. Additionally, 3D printing allows for rapid prototyping activities which saves time and money during the design phase of a project.
Robotic automation tools streamline manual tasks like welding or cutting materials which reduces labor costs and improves accuracy. Artificial intelligence (AI) systems provide predictive analytics that allows for better decision-making when it comes to resource allocation and predicting potential delays due to weather conditions or other factors.
With digital solutions at their disposal, contractors can maximize cost savings while simultaneously improving overall productivity levels throughout their projects.